Y5/6 2020 - 2021
Mr Rogers
Miss Sandham
Mrs Morgan
Welcome To The Y5/6 Homepage!
Autumn Term 2020
Welcome Back! We hope you've managed to have a good Summer holiday after the craziness of last academic year. Here's hoping things return to normal as soon as possible!
PLEASE DOWNLOAD OUR AUTUMN TERM INFORMATION LETTER TO PARENTS FOR INFORMATION ABOUT THIS TERM.
Our topic for this term is called 'Is It Right To Fight?' We will be learning about conflicts and refugees throughout British history, focusing on the Second World War as well as modern day refugees. As part of our topic we'll be reading 'Letters From The Lighthouse' by Emma Carroll. See below for a synopsis of the book.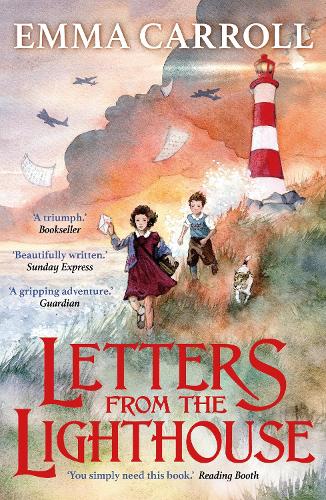 'We weren't supposed to be going to the pictures that night. We weren't even meant to be outside, not in a blackout, and definitely not when German bombs had been falling on London all month like pennies from a jar.'
February, 1941. After months of bombing raids in London, twelve-year-old Olive Bradshaw and her little brother Cliff are evacuated to the Devon coast. The only person with two spare beds is Mr Ephraim, the local lighthouse keeper. But he's not used to company and he certainly doesn't want any evacuees.
Desperate to be helpful, Olive becomes his post-girl, carrying secret messages (as she likes to think of the letters) to the villagers. But Olive has a secret of her own. Her older sister Sukie went missing in an air raid, and she's desperate to discover what happened to her. And then she finds a strange coded note which seems to link Sukie to Devon, and to something dark and impossibly dangerous.
New staff
We are pleased to welcome some new members of staff in to Year 5 and 6 this year. Mr Read will be familiar to many of the children through his work with Sports Coaching Northwest; he will be supporting children in Year 5 and 6 in the mornings and teaching PE in the afternoons. We will also be joined by Miss Horton and Ms Liberti who will be supporting a number of children within the phase.
Equipment
Children will not be able to bring pencil cases from home during this period, but will instead be provided with a stocked pencil case in school which will have all of the resources that the children will need. This will stay in school in your child's tray. They will need to carry reading books, CGP books and homework as the term progresses so children are able to bring a small bag to school if necessary but should avoid bringing any additional items that are not needed in it.
Please note that there will be a blue bin outside the main doors for you to place any forgotten items in a named carrier bag for collection by school staff. ALL items placed in the blue bin MUST be in a named carrier bag as loose items will not be distributed.
Spellings/Phonics
It is still important that children in Year 5 and 6 work at improving their spelling which is a key part of the National Curriculum for writing. Children will practise spellings in the mornings when they come in to school. They also will be taught spelling in year groups as part of their English lessons. For homework, children will have the Year 5 and 6 list of spellings to learn – these are challenging spellings so will need some work throughout the half term. They will also have spelling homework some weeks using 'Spelling Shed'.
Reading
One of the key priorities on our return to school will be to support children with their reading. It is crucial to children's development that they are reading regularly. As a minimum, all children are asked to read at least 3 times a week, for at least half an hour, as part of their weekly homework and have it signed in their planner by an adult. These will be checked by their English teacher in English lessons. Children should tell their teacher when they need to change their book and they will complete an Accelerated Reader quiz on an iPad in school. We will have an allocated day in school to change books but children will keep a spare book in their tray to ensure they have a reading book at all times.
Reading books
Can all reading books please be returned to school so that we can restock the library. Children will be given a slot to choose new reading books during the first week. Please be patient as library time will now have to be limited to ensure that different bubbles of children do not mix.
Homework
| | | |
| --- | --- | --- |
| Subject | Day set | Completed by |
| Maths | Monday | Monday |
| English | Monday | Monday |
| Topic | Start of term | Last week of term |
| Spelling | Start of half term | Last week of half term |
| Reading | At least 3 times a week | |
Please note that Google Classroom will used as our main homework portal. All homework will be listed in Google Classroom even if external websites are used. All children will be provided with their GSuite/Google Classroom login details in the first week of this term.
Click here to directly access Google Classroom: classroom.google.com/a/elworthce.cheshire.sch.uk
Topic homework – This term we would like children to complete ONE piece of topic homework of their choice about the War and Refugees topic. This can be written research, an art project, computer-based – anything which interests them. We hope this will help children to focus on the one piece of work. Please bring in completed homework whenever it us ready and we will display it in the classroom.
PE Timetables
PE sessions will take place for children in Year 5 and 6 on a Thursday with Mrs Wilson, Mr Street and Mr Read. Children will need appropriate warm outdoor PE kit in school on Thursdays as they will be outside for the afternoon. With the guidance in place advising against changing clothes in school, children will be required to come to school wearing their full PE Kit on their allocated day (and also on Fitness Friday). As they will have to wear their PE kit throughout the whole school day, the children will need to be suitably dressed and prepared for indoors, outdoors and all weather conditions.
We are suggesting that the Elworth PE t -shirt and shorts/skort be worn underneath the Elworth jogging bottoms and zip up top. (This to allow layers to be taken off if children get too warm when inside, whilst providing layers for warmth when outside). A waterproof jacket is a necessity, in case of poor weather. Children will also need to come in wearing a sensible pair of sports trainers.
Swimming
Children in Year 5 and 6 will be assessed in swimming over first two weeks of the half term. Swimming days will be as follows:
Class 1 Monday 14th September and Monday 21st September
Class 2 Tuesday 15th September and Tuesday 22nd September
Class 3 Wednesday 16th September and Wednesday 23rd September
Year 5 Outdoor Learning
As part of our LOtC (Learning Outside the Classroom) curriculum, Year 5 will be completing navigation and orienteering skills with Mr Thorpe (within the school grounds) on Fridays for the next 4 weeks. Year 5 will be split in to two groups and complete either a morning or afternoon session. The first session will be on Friday 11th September. Children will need to wear clothes suitable for the outdoor environment in all weather conditions, including a change of footwear and waterproofs. Wellies would be preferable. Further information will follow in a separate email.
E-Safety - What Do We Do Online?
This term in E-Safety we're focussing on what we do online. What video games do we play, what websites do we use and who do we connect with?
Files to Download
Y5/6: News items
There are no News items to display
Y5/6: Gallery items
There are no Gallery items to display
Y5/6: Calendar items
There are no Calendar items to display